Pori Terveystalo clinic in Finland upgraded their 11-year-old MR scanner to SIGNA Artist with AIR™ Recon DL technology – GE Healthcare's AI-based image reconstruction software, enabling reduced scan times and higher image quality. Radiologist Hannu Toivonen from Pori Terveystalo talks about his experiences with the reconstruction technology.
MR scanner upgrade with AIR Recon DL
Pori Terveystalo has been using GE Healthcare's 1.5 T Optima™ 450W magnetic resonance scanner since 2010. In summer 2021, the MR scanner was upgraded to SIGNA™ Artist, including the installation of the new AIR™ Recon DL technology to improve image quality and speed up the scanning process. AIR Recon DL is an image noise reduction software based on artificial intelligence that improves image quality and reduces scan times thus enabling improved diagnosis. AIR Recon DL requires significantly more computing power than the previous version, and therefore everything except the magnetic core in the original equipment was upgraded. The upgrade also included coil technology in the form of "blanket-like" AIR™ coils which provides a more comfortable experience for the patient and new fixed coils suitable for scanning joints.

"With the upgrade, scan times for magnetic resonance procedures have been reduced and at the same time the image quality has improved significantly," says radiologist Hannu Toivonen from Pori Terveystalo.
Practical experiences with AIR Recon DL
The challenge, in magnetic resonance imaging, is to find the optimal balance between scan duration and image quality. Normally, the signal can be improved, for example, by increasing the field strength or extending the scan time.
A similar result can also be obtained by removing noise, which improves the signal-to-noise ratio.
"With the update, scan times for magnetic resonance procedures have been reduced and at the same time the image quality has improved significantly."
Hannu Toivonen, radiologist Terveystalo Pori
"Based on my current experience, AIR Recon DL's AI software has worked very well and I have not observed any information loss due to noise reduction."
"In simplified terms, we have worked according to principle where noise has been added in the original sequence, either by tightening the matrix, which also improves the anatomical resolution, or by lowering the NEX value, which reduces scan time. After these changes, we have used the high setting of the AIR Recon DL."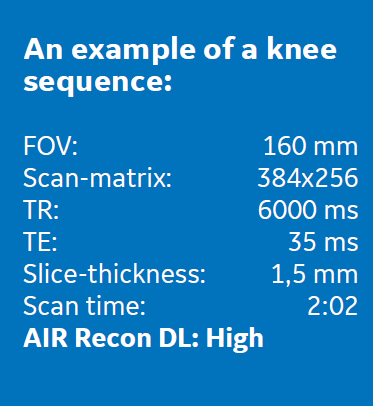 "The sequence described above has been used specifically to evaluate hyaline cartilage. The resulting images have excellent anatomical resolution, noise-free image and good cartilage-liquid contrast. Correspondingly, the interpretation of the hyaline cartilage in the hip has been clearly facilitated and, for example, the beginnings of cartilage lesions on the posterior side of the foveate can now be detected," says Hannu Toivonen.
"Because the images are noise free, other conventional artifacts have become relatively more visible and, for example, patient positioning is even more important in minimizing motion artifacts."
Pori Terveystalo experiences show that the improved image quality with AIR Recon DL can reduce radiological interpretation uncertainty significantly as well as reduce work time.